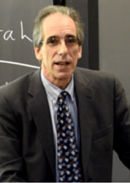 On May 22 at 7:00 PM, Professor Stuart Miller will be presenting a Road Show lecture entitled "Separating Out the Facts: The Origins of Christianity and the History of Judaism" at Congregation Rodeph Sholom in Bridgeport, CT (Friend Hall, 2385 Park Avenue). 
In this Road Show, Professor Miller provides an in-depth exploration on what both Jews and Christians need to know about the beginnings of Christianity and its roots in Judaism as well as the reasons for the eventual "parting of the ways." 
Rodeph Sholom can be reached at 203-334-0159.
For more information about Road Show presentations, call the Center's Program Assistant Aaron Rosman at 860-486-2271 or email:  aaron.rosman@uconn.edu.