Study Abroad Programs
Study abroad in Israel, Poland, Austria and Hungary, Buenos Aires, Prague, and other locations!
Study abroad opportunities are offered through UConn's Study Abroad Program as well as in collaboration with other universities such as Eastern Connecticut State University's Global Field Course to Poland, Austria and Hungary; University of Haifa (offers summer study and year- or semester-long study opportunities in a variety of fields); Tel Aviv University; and The Hebrew University of Jerusalem.
Education Abroad in Israel
Students may spend a semester or academic year at Hebrew University in Jerusalem, Tel Aviv University, Haifa University, or Ben Gurion University. Students should take at least one semester of Hebrew at UConn before studying abroad in Israel. 
Past programs and travel that our students have enjoyed include summer language programs at University of Haifa (Haifa, Israel); internships at University of Haifa International School; study in Prague; and trips abroad to the Czech Republic. 
Each year, travel stipends in the amount of $1500 are awarded to students who travel to Israel for summer academic programs.  These awards are sponsored by the Center for Judaic Studies and Contemporary Jewish Life, the Office of Global Affairs, and Middle East Studies. Read about the experiences of our 2015 Israel Academic Travel Award winners who spent the summer in Israel. 
Financial assistance is available through scholarship opportunities, and we encourage students interested in traveling or studying abroad to contact us .
Please visit UConn's Study Abroad website for further details about the opportunities available to all students interested in international travel.
Jewish Latin America Program: Study Abroad in Buenos Aires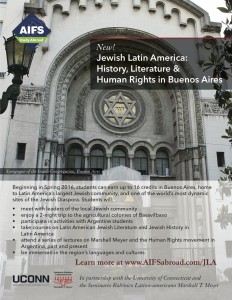 Don't miss out on the opportunity to study abroad in Buenos Aires and benefit from an immersive experience in the culture of the region!  Earn up to 16 credits through the University of Connecticut's Jewish Latin America program based in Buenos Aires, home to Latin America's largest Jewish community and one of the world's most dynamic sites of the Jewish Diaspora. Students will explore and examine the city with a focus on human rights and migration and take courses on Latin American Jewish Literature and History.
No previous Spanish language study required. Courses are taught in English and Spanish.
Visit the AIFS Study Abroad website for a program overview and to find information on the scholarships that are available to you!