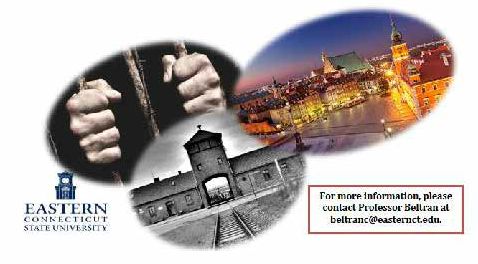 THE NAZI AFTERMATH IN CENTRAL EUROPE: THE MEDIA, HISTORY, AND THE HOLOCAUST
Summer 2015 / May 14-­‐31, 2015 / COM 471: 1 credit
• Investigate how the media in Poland, Austria, and Hungary represents the Holocaust.
• Meet with major media, embassy officials, historians and cultural and social leaders.
• Visit historical and cultural sites, including the Warsaw Ghetto, Auschwitz-­‐Birkenau Concentration Camp, Krakow's Kazimierz and Budapest's Jewish Quarters, and Vienna's Imperial District.
• Global field course to Poland, Austria and Hungary
Estimated Cost: $ 3,990
(UConn Center for Judaic Studies offers scholarships and study-abroad assistance, as well as academic credits at UConn may be earned – please contact the center for details)
For more information, please contact Professor Beltran at beltranc@easternct.edu.
---