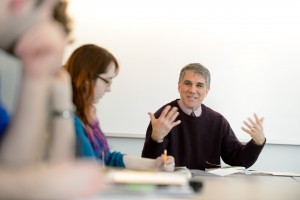 Professor Jeffrey Shoulson was recently interviewed about his newly published book, In Fictions of Conversion: Jews, Christians, and Cultures of Change in Early Modern England (University of Pennsylvania Press, 2013), by New Books In Jewish Studies.
Jeffrey S. Shoulson, the Doris and Simon Konover Chair in Judaic Studies and the Director of the Center for Judaic Studies and Contemporary Jewish Life at the University of Connecticut, argues that the promise and peril of conversion was projected onto the figure of the Jew, the ultimate religious "other" in English society.
Shoulson looks at English writings on religious conversion and how conversion became a means through which other "technologies of transformation" were figured. His reading of diverse texts, from the translated King James Bible to the poetry of Milton, helps us understand the ways in which the figure of the Jew could serve a variety of purposes in the early modern English imagination.
---