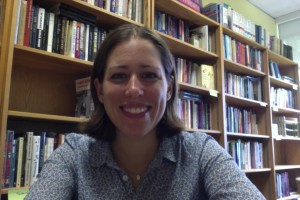 On November 12th, Emily Sigalow will be presenting a faculty colloquium entitled "Making Meditation Jewish: The Construction of a New Contemplative Jewish Practice."
Emily Sigalow is a Postdoctoral Fellow in the Department of Sociology at Brandeis University. Her research and teaching interests focus on the sociological study of contemporary Jewish life, particularly as related to questions about culture, gender, and health. She is working on a book project about the historical and contemporary encounter between Judaism and Buddhism in America. This book project, American JUBU, explains how Judaism and Buddhism met, combined, and changed in relation to each other in America since 1893. She holds a Ph.D in Near Eastern and Judaic Studies and Sociology (joint degree) from Brandeis University, a M.A. from Ben Gurion.
Date: November 12, 2015
Location: BUS302 at 1:00 PM
Open to faculty, staff, students – Please join us!
---