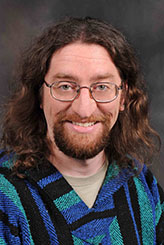 Chris Clarke graduated with an MA in Judaic Studies in 2004 and is a Research, Teaching and Learning Services Specialist at the Library for the Claremont Colleges.
He is currently a PhD candidate focusing on the Hebrew Bible at Claremont Graduate University focusing his dissertation on a form-critical analysis of the encounters with the heavenly court in the Hebrew Bible and the Book of the Watchers.
He was also the recipient of an SCELC (Statewide California Electronic Library Consortium) grant for first-time conference goers and will be using the grant to attend the American Library Association's Annual Conference in June 2016.
---