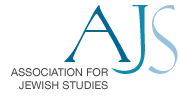 The Association for Jewish Studies is pleased to announce The Berman Foundation Early Career Fellowships in Support of Research in the Social Scientific Study of the Contemporary American Jewish Community. The Berman Early Career Fellowships aim to support the development and expansion of the field of the social scientific study of the North American Jewish community; enhance funding opportunities for early career scholars in the social sciences; encourage scholars in sociology, social psychology, social anthropology, demography, social work, economics, and political science to expand their research to include study of the North American Jewish community; and nurture a new generation of scholars in this critical area of research.
Specifically, the fellowship will provide funds to offset scholars' expenses in turning their dissertations into monographs or refereed journal articles. Candidates will be eligible for up to $8,000 in funding for the 2016–2017 academic year. Awards will vary based on a variety of factors, including the project budget and the scope of the proposed research. The fellowship may fund research travel, equipment and materials, and fieldwork, or help subsidize living expenses during the writing phase of the project. In doing so, the fellowship will enable recent PhDs to make significant contributions to the field at an early point in their academic career, as well as help position recipients to secure a tenure-track position or achieve tenure once in such a position.
Deadline: February 26, 2016
For more information, click here.
---