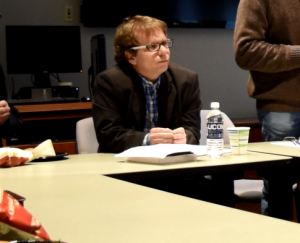 At our recent, February 17, faculty colloquium, Dr. Alon Segev presented "A Theologian in Support of National Socialism: The Case of Gerhard Kittel."  Dr. Segev, who has published extensively on Holocaust studies, modern German philosophy, and classical and modern philosophy, is currently a visiting scholar with UConn's philosophy department and has also been a visiting scholar at Stanford, Berkeley, Pittsburgh and Arizona Universities, the University of Jerusalem and Stellenbosch University in South Africa.
Dr. Segev provided an examination of the writings of influential German theologian Gerhard Kittel on the "Jewish question."  Kittel served 17 months in prison after World War II while awaiting trial for his role in spreading antisemitic propaganda.  While in prison, Kittel wrote a manuscript exculpating himself from blame for any Nazi atrocities committed against the Jews.  According to Kittel, his antisemitism was unlike the crass or rowdy antisemitism of the Nazis and was instead an antisemitism rooted in Christian theology.
As Dr. Segev illustrated, for Kittel, the "Jewish problem" was grounded not in economics, as Marx would have it, or in race, as Dühring argued, but in theology; and only a theological solution could be applied.  Kittel maintained that the Nuremberg laws reflected the divine punishment God had meted out against the Jewish people when he dispersed them throughout the world to live at the mercy of foreign governments.  Kittel used theological arguments to support the legal practices of National Socialism which denied Jews their civil rights while insisting that he had used his influence within the party to elevate Nazi ideology from its vulgar foundations.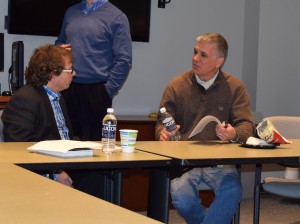 Dr. Segev's illuminating presentation was followed by questions and discussion from the students and faculty in attendance.  Our ongoing colloquium series occurs on a monthly basis and features the research of faculty and graduate students in an informal setting that allows for conversation and dialog about evolving work.
Dr. Segev was a Max-Planck Minerva Fellow in the department of philosophy at the University of Heidelberg and a DFG (Deutsche Forschungsgemeinschaft) fellow at the Martin-Buber Institute at the University of Cologne.  His book, Thinking and Killing: Philosophical Discourse in the Shadow of the Third Reich (New York / Berlin: Walter de Gruyter 2013) examines the contribution of eight German thinkers to the discussion about the Holocaust and the Final Solution.  His current work investigates the political readings of Descartes, Hannah Arendt, and Gerhard Kittel.
A warm thanks to Professor Segev for sharing his research with us!
---