Over
one hundred attendees were present at the Charter Oak Cultural Center in Hartford on February 25 for an exciting evening with satirist Gary Shteyngart whose New York Times best-selling novels have won numerous awards and been heralded by Time magazine, The New Yorker, The Guardian, The New York Times Book Review, Washington Post, Chicago Tribune, and San Francisco Chronicle.
Professor Sasha Senderovich, assistant professor of Russian Studies and Jewish Studies at the University of Colorado, Boulder, facilitated a conversation with the author, and  the exchange provided for a very warmly received evening of entertainment as Shteyngart discussed his books and his dual childhood experiences growing up in Soviet Russia and as an immigrant American.  Shteyngart shared stories of his early life in Russia as Vladimir Lenin's biggest fan and as the unhappy recipient of fire cupping treatments, an alternative medical practice in which suction cups were placed on the patient to create a vacuum that would supposedly release toxic substances from the bloodstream.
At the age of seven, Shteyngart's family left Leningrad and settled in New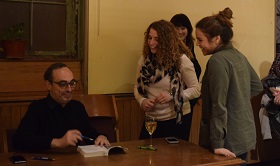 York where he was enrolled in the Solomon Schechter School of Queens and spent his youth writing stories to be read aloud to his classmates and hiding salami in his pockets.  Shteyngart grew up in a Russian-speaking household where, in place of a television, there were stacks of Chekhov and Dostoevsky.  He attended Stuyvesant High School in New York City and is a graduate of Oberlin College in Ohio.  Shteyngart earned an MFA in creative writing at Hunter College and teaches creative writing at Columbia University.
The audience was treated to a book reading of several hilarious passages from Shteyngart's work followed by a question and answer session.  The evening was capped off by a book signing and the opportunity to speak and take pictures with the author.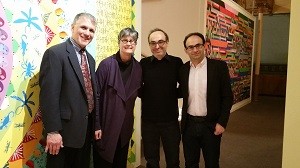 An Evening with Gary Shteyngart was a free event, open to the public, and co-sponsored by the Center for Judaic Studies and Contemporary Jewish Life at UConn and the Charter Oak Cultural Center in Hartford.  According to the Center's director, Professor Jeffrey Shoulson, the new partnership between the Center and Charter Oak is a vital way to support, sustain, and foster Jewish culture and the arts beyond the campus, and the attendance by students to these events helps to develop a relationship between the University and greater community.
The next event being co-sponsored by the Center for Judaic Studies and Charter Oak will be held on April 7 when the Guy Mendilow Ensemble will perform Tales from the Forgotten Kingdom, a musical journey through the Balkans to the Mid-East.  Transportation to and from Storrs campus will be provided to students, faculty, and the community.  We hope you will join us!
---