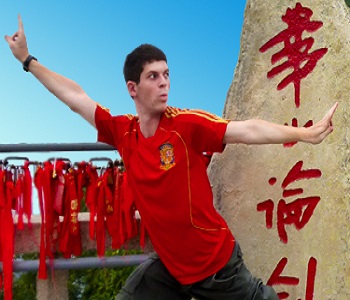 The final event of our Jewish Humor Series will take place on UConn's Storrs campus in Laurel Hall, room 102, on November 16 at 7pm when Fulbright scholar and comedian Jesse Appell will present his unique brand of intercultural comedy that mixes Jewish humor with the traditional art of Xiangsheng, a 150-year-old Chinese comedy folk art. The event is made possible by UConn's Center for Judaic Studies and Contemporary Jewish Life, the Maurice Greenberg Center for Judaic Studies at the University of Hartford, UConn's Asian and Asian American Studies Institute, and UConn's Asian American Cultural Center. 
A graduate of Brandeis University, Jesse continued his studies in Beijing in 2012 where his receipt of a Critical Language Enhancement Award made possible intensive language study, and a Fulbright scholarship funded his research on Chinese comedy.  
As well as studying and performing Xiangsheng, Jesse also performs bilingual improv and has been showcased on Chinese television. He writes a comedy blog for China Personified and LaughBeijing and created the LaughBeijing project in an effort to connect Chinese and Western culture through comedy and to develop new ways of combining the comedic styles of both groups.
---