On March 9 at 7:00 pm, in the Konover Auditorium at the Dodd Research Center, Dov Waxman, professor of political science, international affairs, and Israel studies at Northeastern University will present "Trouble in the Tribe: The American Jewish Conflict over Israel." Professor Waxman will describe how the conflict over Israel within the American Jewish communities has developed and what it means for the future of American Jewish politics. The event, sponsored by the Center for Judaic Studies and Contemporary Jewish Life, UConn's Middle East Studies Program, and the Department of Political Science, is free and open to the public. Attendance at the event counts toward sophomore honors credit.
Professor Waxman's presentation will be followed by a Q&A as well as a book signing of Trouble in the Tribe: The American Jewish Conflict over Israel. Books will be available for purchase through Barnes and Noble at the Dodd Center from 6:30-8:30 pm.
What people are saying: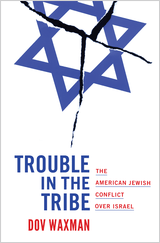 "A meticulous, precise, well-organized survey that takes into account the many different views and will certainly facilitate the heated conversation."–Kirkus
"This is an extremely important book that will have profound consequences. When puzzled friends ask me why the American Jewish community is now so divided over Israel, this is the book I will recommend."–Kenneth D. Wald, coauthor of Religion and Politics in the United States
From the back cover:
Drawing on a wealth of in-depth interviews with American Jewish leaders and activists, Waxman shows why Israel has become such a divisive issue among American Jews. He delves into the American Jewish debate about Israel, examining the impact that the conflict over Israel is having on Jewish communities. Waxman sets this conflict in the context of broader cultural, political, institutional, and demographic changes.
Dov Waxman is the author of The Pursuit of Peace and the Crisis of Israeli Identity and the coauthor of Israel's Palestinians: The Conflict Within.
Parking:
Parking is available in the North and South garages on campus. Garage rates are $1/hr after 5pm. Did you know that after 5:00 pm, visitors may park in any on-campus space not designated as reserved, restricted or limited? 
---