The Center for Judaic Studies has forged a partnership with Charter Oak Cultural Center in Hartford to collaborate on cultural and educational events, extending our capacity to support, sustain, and foster Jewish culture and the arts beyond the campus. We are excited to continue that partnership this spring by bringing Connecticut native Adrianne Greenbaum and her klezmer ensemble FleytMuzik to perform "Farewell to the Homeland: Polyn" at Charter Oak Cultural Center (21 Charter Oak Avenue, Hartford, CT) on March 23 at 7:00 pm. Visit Charter Oak's website for detailed information on directions and parking.
Register for tickets for this free event!
A highly acclaimed musician with degrees from Yale School of Music and Oberlin College Conservatory, Professor Greenbaum is a sought after flutist who has performed worldwide and is the leading pioneer revivalist of the klezmer flute tradition.  Klezmer music, the traditional music of eastern European Jewry, is known for the beautiful, soulful, and joyous sounds of flute, violin, cimbalom, and bass.  FleytMuzik is a unique and charismatic ensemble that has brought klezmer music to the world stage; and their concerts, performed on the historic instruments of the 19th century, bring to life the music of eastern European Jewry and its shtetl bands.
FleytMuzik is comprised of leading musicians of traditional klezmer. Led by internationally renowned pioneering klezmer flutist, Adrianne Greenbaum, with Michael Alpert, vocals and violin (National Heritage Fellowship award, 2015), Pete Rushefsky, tsimbl (tsimbalist with Itzhak Perlman's "In the Fiddler's House"), Jake Shulman-Ment, fiddle, Brian Glassman, bass, and guest, UConn adjunct woodwind specialist, Walter "Zev" Mamlok.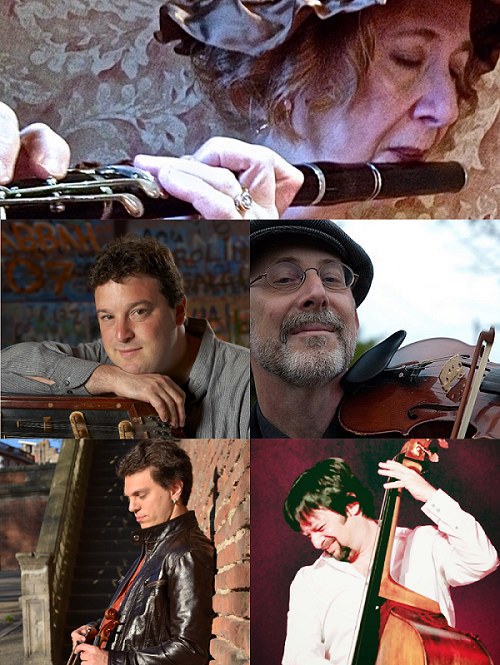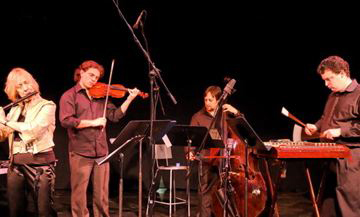 Klezmer ensemble FleytMuzik performs
Professor Greenbaum was recently featured in Lilith Magazine, where she described her efforts to revitalize the music created by Polish Jews, so much of which was lost in the devastating wake of the Nazis.
"Farewell to the Homeland: Poyln" Concert
The Geshikhte/Story: A tiny shtetl in Dubiecko, Poland; three generations of a family klezmer band; post Shabbos torchlight parade to Belzer rebbe; 1934 Bar Mitzvah on a boat to America; family members live or die in Holocaust; Jewish music manuscripts found in family violin case.  Fast forward to 2009, Adrianne Greenbaum and Sharon Frant Brooks make a miraculous shidduk/shidduch, Greenbaum transcribes the many scribbled pages of music, travels to Poland and performs a few of the tunes at the cemetery, and finally, "FleytMuzik's" musicians perform these works that were alive in early 19th century. Poland, with the full musical story coming to fruition today.
About Adrianne Greenbaum
Professor of Music at Mount Holyoke College, Adrianne Greenbaum  is sought after as a performer and teacher for diverse audiences and enjoys teaching children as well as adults, most recently joining the faculty at New Horizons in Chattauqua, NY, and the adult session at New England Music Camp in Maine. Adrianne is the leading pioneer revivalist of the klezmer flute tradition, performing on vintage European and American wood flutes from the late nineteenth centuries. She enjoys touring with her klezmer ensemble "FleytMuzik" having recently completed a seven concert tour of Scotland and presented her klezmer and early music blend at the prestigious Pittsburgh Renaissance and Baroque series in 2016.
In addition to many universities and colleges throughout the US, she has performed and given master classes in Dusseldorf, Paris, Vienna, and Krakow. Her albums "FleytMuzik" and "Family Portrait" have won awards and acclaim for her entertaining and historically informed performances, the most recent being the release of "Farewell to the Homeland: Poyln."  For many years running, Adrianne has been invited to perform and give workshops for the National and the British Flute Society Societies and for the prestigious New York Flute Club, focusing on baroque and klezmer ornamentation, and exploring commonalities between these two genres.
Beyond her private studio she has taught at many adult programs, including KlezKamp, KlezKanada, KlezmerQuerque, Boxwood Festival (Nova Scotia) and Santa Fe Flute Immersion and has led master classes and workshops in England, France, Austria, and across the US. This summer marked the third annual hosting of her popular World Music and Improv Camp in CT. Additionally she has created a new concert series on period instruments, connecting klezmer and baroque music. Ms. Greenbaum is Solo Flutist of the Wall Street Chamber Players, Principal Flute Emeritus of Orchestra New England and the New Haven Symphony and resides in Fairfield, CT.
---