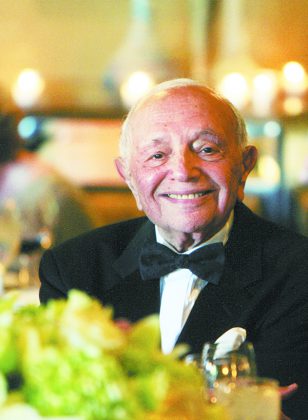 Jewish communal activist, philanthropist, and founder of the North American Jewish DataBank Mandell "Bill" Berman, z"l, passed away at the age of 99 on December 21, 2016.  Bill Berman was a singular supporter of social science research on American Jewry and a generous supporter of UConn's Center for Judaic Studies and Contemporary Jewish Life.
From the Berman Jewish DataBank:
Berman Jewish DataBank mourns the passing of Mandell "Bill" Berman, z"l
December 23, 2016
The Berman Jewish DataBank sadly announces the passing of Mandell "Bill" Berman, the Jewish communal activist and philanthropist whose foresight and generosity led to the creation of the North American Jewish Data Bank 30 years ago and to its permanent endowment under its current name at the Jewish Federations of North America in 2013.
Bill was among his generation's greatest supporters of research in the American Jewish community. He believed strongly in the value of producing and sharing knowledge. In addition to the DataBank, he funded major national surveys of the U.S. Jewish community, research and evaluation in Jewish education and for programs helping children with disabilities, scholarships for students to pursue their studies, and fellowships for academic and applied researchers to conduct their work. He also played a major role in creating the Berman Jewish Policy Archive, with which the DataBank closely collaborates.
Additionally, Bill's volunteer and philanthropic leadership extended to many communal organizations. Among these were the Jewish Federation of Metropolitan Detroit, Hillel, The Jewish Federations of North America, the Jewish Education Service of North America, the American Jewish Joint Distribution Committee, the Meyers-JDC-Brookdale Institute, and the Jewish Agency for Israel. He also supported a wide range of civic, educational and charitable organizations in his native Michigan.
Bill is survived by his wife, two children and three grandchildren.
The DataBank is proud to carry Bill Berman's name and hopes that our work will serve as a lasting legacy to his vision. May his memory be a blessing to his family, his community and to all of us who benefited from his kind and generous spirit.
---