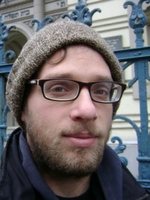 Documentary film-maker Noam Osband will be presenting a screening of his award-winning short film, The Radical Jew, on Tuesday, November 14, from 9:30 am – 11:00 am. The screening will be held in Video Theater 2 at the Homer Babbidge Library.
Learn more and watch a trailer on Noam's website.
If you require an accommodation to participate in this event, please contact the Center at 860-486-2271 or judaicstudies@uconn.edu by November 7, 2017.
About the Film
The Radical Jew examines the views of Baruch Marzel, a prominent leader of the Jewish settler community in Hebron, Israel.
Awards
Winner of Best Outstanding Nonfiction at the 2017 Short. Sweet. Film Fest.
Winner of Best Documentary Short at the 2016 Charlotte Film Festival
Winner of Outstanding Documentary Short at the 2016 Tallgrass International Film Festival
This event is made possible by the Center for Judaic Studies and Contemporary Jewish Life and UConn's Middle East Studies Program.
---