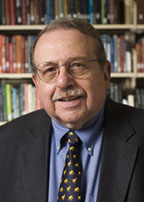 It is with great sadness that I share news of the passing of Dr. Bruce Stave, Emeritus Professor and a former Head of the History Department, who passed away Saturday morning, December 2, from complications of congestive heart failure. 
Bruce had been an active and distinguished member of our Judaic Studies community and a generous supporter of our Center. He served on the Center's academic advisory and executive boards for many years and was a member of key university committees. A professor in the History Department, he was a leading scholar in American urban history, a path-breaking methodologist in oral history, and a leading historian of the development of the University of Connecticut. The Head of the History Department, Chris Clark, says that Bruce and his wife Sondra Stave "have been stalwart friends of the department, supporting graduate students through a generous scholarship fund, and attending numerous departmental and public events over the years. He was a warm personal friend to many."
A celebration of Bruce's life will take place on Friday, April 20, 2018 at the Alumni Center from 4-6pm. Contributions may be made to the University of Connecticut Foundation for the Bruce M. and Sondra Astor Stave Prize in Recent American History or to a charity of your choice. 
May his memory be a blessing.
Sebastian
---