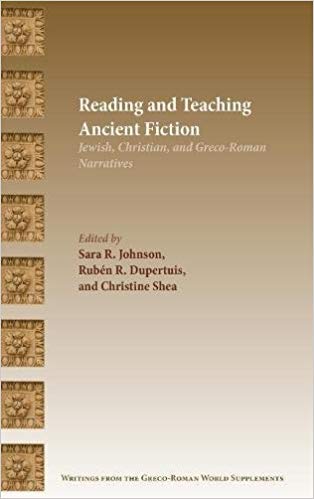 Congratulations to Associate Professor of Classics and Mediterranean Studies Sara Johnson who recently co-edited Reading and Teaching Ancient Fiction: Greco-Roman, Early Jewish, and Christian Narrative. The volume, co-edited with Ruben Dupertuis and Christine Shea, was published by the Society of Biblical Literature Press and represents their third volume of research on ancient fictions.
This volume includes essays presented in the Ancient Fiction and Early Christian and Jewish Narrative section of the Society of Biblical Literature. Contributors explore facets of ongoing research into the interplay of history, fiction, and narrative in ancient Greco-Roman, Jewish, and Christian texts. The essays examine the ways in which ancient authors in a variety of genre and cultural settings employed a range of narrative strategies to reflect on pressing contemporary issues, to shape community identity, or to provide moral and educational guidance for their readers. Not content merely to offer new insights, this volume also highlights strategies for integrating the fruits of this research into the university classroom and beyond.
Features
Insight into the latest developments in ancient Mediterranean narrative

Exploration of how to use ancient texts to encourage students to examine assumptions about ancient gender and sexuality or to view familiar texts from a new perspective

Close readings of classical authors as well as canonical and noncanonical Jewish and Christian texts
Reviews
Laura Quick, Princeton University, in a review in Bryn Mawr Classical Review notes, "there will be much of interest here to students and scholars of Hellenistic and Roman literature. The joint goal of the project, both pedagogical as well as research-oriented, is an interesting take on the edited volume, making an important contribution to both the classroom and to our understanding of the various ancient texts under discussion. Indeed, many of the contributions reveal unexpected features in the various narratives, demonstrating the cogency of reading Jewish, Christian, and Greco-Roman literature in dialogue."
---