Prof. Nick Underwood presented "The World of Yiddish Theatre in History and Digital" on July 13, 2020 as part of the new Virtual Festival of Yiddish Culture, a project of the UConn Center for Judaic Studies in partnership with the Jewish Hartford European Roots Project. The world of Yiddish theatre traverses the globe. Over roughly the past century and a half, Yiddish theatre, which has its roots in Purim, has engaged millions of people and has embraced several artistic and theatrical forms. Its story is not only in the past, however, it is still going strong, and has even found a home on the internet. Through an exploration of Yiddish theatre from its origins to today, participants will discover the world of Yiddish theatre and learn about the ways that the medium has come into contact with the digital age. Nick Underwood is Assistant Professor of History and Berger-Neilsen Chair of Judaic Studies at The College of Idaho.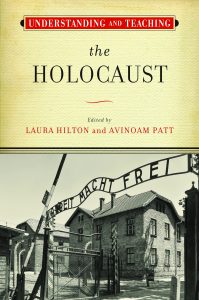 Center Director Prof. Avinoam Patt is co-editor of the new Understanding and Teaching the Holocaust, together with Prof. Laura Hilton (Muskingum University).
The volume includes 20 chapters on the challenges and necessity of the teaching the Holocaust in the 21st century, including chapters devoted to teaching specific content, as well as chapters for teaching with specific sources, methods, and media. Among the contributors are UConn faculty member Prof. Alan Marcus (on teaching with film), Connecticut-based teacher Stuart Abrams (Avon High School, teaching with monuments and memorials), along with Avinoam Patt's chapter on Jewish Displaced Persons.
More information can be found here:
https://uwpress.wisc.edu/books/5767.htm
"Hilton and Patt's wide-ranging volume combines authoritative surveys of key aspects of the Holocaust—from antisemitism to postwar justice—with practical guides of using survivor testimonies, photographs, museums, and more with students. This book will help anyone involved in teaching about a subject that remains as challenging as it is urgent."
—Doris Bergen, author of War and Genocide: A Concise History of the Holocaust