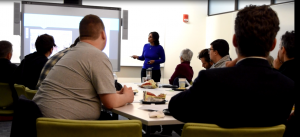 On March 23, at our faculty colloquium, Maha Darawsha, lecturer in Arabic at UConn, presented on her exciting discovery this past summer in Nazareth, Israel of a mosaic floor thought to be from one of the earliest churches in Christianity.
Darawsha, whose work is in collaboration with the University of Hartford's Greenberg Center for Judaic Studies, along with Professor Richard Freund of the University of Hartford and Shalom Yanklovitz of Haifa University, led a team of archaeologists in excavating near the current Greek Orthodox Church of the Annunciation.
The Church of the Annunciation, so named because it is said to be built above the spring where the Virgin Mary was drawing water when the angel  Gabriel revealed to her that she would bear the Son of God, lies just south of the excavation site. Darawsha, originally from a village just outside of Nazareth, has been researching the project since 2003 and believes that they have found the exact site of Mary's well, upon which the original Church of the Annunciation was constructed.  Ground penetrating radar, along with the primary source material that records the existence of the early Byzantine era church, helped the team to uncover the site where the mosaic, believed to date to the fourth century, was found.
Darawsha holds a B.A. from the University of Haifa in Archaeology and an M.A. in Judaic Studies from UConn.  She will return to the excavation site in the 2016 summer season and hopes to uncover more of the building and an extension of the mosaic which is decorated with crosses and other Christian iconography.  We look forward to hearing more about these exciting discoveries as the excavation continues!
---