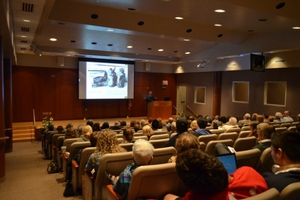 On Monday, April 24, the Center for Judaic Studies and Contemporary Jewish Life, the Human Rights Institute, and the Thomas J. Dodd Research Center sponsored the Fierberg Lecture in Judaic Studies annual Academic Convocation on the Holocaust with guest speaker Professor Samuel Kassow, history professor at Trinity College.
Professor Kassow presented on a secret archive of materials collected and hidden by prisoners in the Warsaw Ghetto. All but three members of the group, Oyneg Shabes, led by historian Dr. Ringelblum perished. The collected documents and writings they produced recording Jewish life in Poland before and during the war bore witness to the Holocaust, and the archive now serves as the cultural legacy of Polish Jewry.
For more, read The Daily Campus article featuring the event. 
---