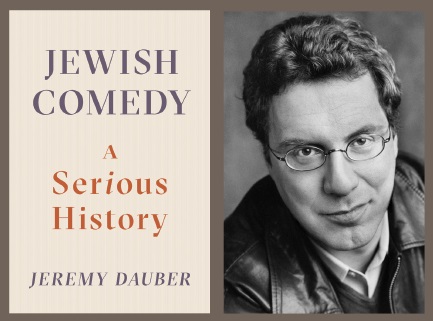 Jeremy Dauber will discuss his book, Jewish Comedy: A Serious History, at the Charter Oak Cultural Center in Hartford (21 Charter Oak Ave.) on Tuesday, October 17, at 7:00 pm. In a major work of scholarship both erudite and very funny, Jeremy Dauber traces the origins of Jewish comedy and its development from biblical times to the age of Twitter. His exploration takes us from the Book of Esther to Seinfeld and Curb Your Enthusiasm from the work of such masters as Sholem Aleichem, Franz Kafka, the Marx Brothers, Woody Allen, Joan Rivers, Philip Roth, Sarah Silverman, and Jon Stewart.
"You can't understand comedy without knowing Jewish comedy—and you'll find no smarter, more intrepid and surprising analysis of the subject than in this book." –Jason Zinoman, author of Letterman: The Last Giant of Late Night
Jeremy Dauber is the Atran Professor of Yiddish Language, Literature and Culture at Columbia University. He is the author of several books on Jewish literature.
This event is brought to you in partnership with The Charter Oak Cultural Center, The Maurice Greenberg Center for Judaic Studies at the University of Hartford, and University of Connecticut Center for Judaic Studies
Free and open to the community
Register at jamesd@charteroakcenter.org or
cocc@charteroakcenter.org | Phone: 860-310-2586
---