Guest post by Guy Mendilow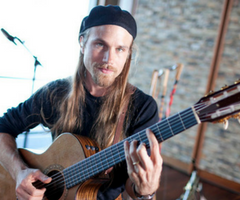 Our world is so different from the world of the former Ottoman Empire, where many of the songs on our new album, The Forgotten Kingdom, arose. Traditional contexts for singing these songs — in the home, in community events — have all but vanished thanks to wars, immigration, and massive societal changes. So how do you bring songs from long ago and far away to a modern, savvy audience?
My colleague, Andy Reiner, said it well: There are cultural curators, whose job is to present a song in a way that captures a specific moment rooted in a particular time and place, and there are artistic creators, who create something new, based on their own experience. I think it's fair to say we can take these as polar extremes, and that artists dealing with traditional material situate somewhere on the spectrum between them. It's important for such artists to be up front with themselves and their audiences about their place on that spectrum. As Petrarch said, you "call a fig a fig."
For any artist working with traditional material, knowing the tradition, knowing the history, is a basic prerequisite. If you haven't grown up with those traditions, it's incumbent on you to read, to watch, to listen. And there aren't good excuses. If you cannot actually work directly with living culture bearers, you work with the next best thing: video and audio documenting those culture bearers.
And this is where I'd like to start.
The first track from The Forgotten Kingdom we'll feature is Esta Montaña D'Enfrente (The Mountain Ahead Burns).
Here is a field recording, made in 1978, of Levi Ester, singing this song as she might have heard it in her home in Silivria, Turkey in the early 20th century.
Have a listen:
Field Recording: Esta Montaña D'enfrente — Levi Ester, from Turkia, Silivria, recorded in Bat Yam in 1978 by Moshe Shaul
This is a good example of a fairly modern (i.e. late 19th century/early 20th century) Sephardi cantiga — a topical song dealing with popular issues like love (or in this case lost love). These songs were most often sung by women, and, as you can hear in this field recording, they were most often sung a capella. That's not necessarily because the women who sang these songs wouldn't have wanted an accompaniment. It's just that they often sang them in situations where accompaniment was not practical: like in the home, while doing a bazillion different household things. You'll notice also that the singer here is not necessarily a professional. And, for the most part, these songs weren't sung by pros. They belonged to the community, in an intimate sort of way. This meant also that individual singers felt free to make changes to the lyrics, or to the melodies, according to their own aesthetics.
Take a look at the lyrics of this song:
Ladino
Esta muntanya d'enfrente
S'asiende i va kemando.
Ayí pedrí al mi amor,
M'asento i vo yorando.
Sekretos kero deskuvrir,
Sekretos de mi vida.
El sielo kero por papel,
La mar kero por tinta.
Los arvolés por pendolás,
Para eskrivir mis males,
No ay ken sepa mi dolor,
Ni ajenos ni parientes.
English
The mountain ahead
ignites and burns.
That's where I lost my love
That's where I sit and weep
There are secrets I would discover.
Secrets of my life.
I would have the sky for paper,
And the sea for ink.
The trees as my pen,
I write my suffering
I've suffered more than anyone can know.
Not my neighbors or my family.
_______________
And now we leave tradition. Now I put away the research. And I just gotta say: Whoa. This is no ordinary ditty. Can you imagine coming to a place in your life when these sentiments become your conviction? What brings you to such a place? What loss, what grief?
Once, in Seville, I had the good fortune of being brought to an unmarked speakeasy in the Triana neighborhood. It operated from midnight to three am. Only locals knew about it. Smoky, cluttered with old, gritty wood tables and chairs, stained floors. There were two or three guitarists. There'd be conversation and then someone would start singing, and first one and then the other guitarists would join in. The singer started seated, but, almost inevitably, the raw intensity of her singing would bring her to her feet. The atmosphere was charged, electric. The way they sang, the rhythmic clapping, the low lights — staying up all night, alone in the streets, awake, alive! This was far from the flamenco most tourists caught in the local theatre. I never found out whether these were pros or not, and I'm not sure it matters, but I can tell you that the kind of edge-of-your-seat urgency of those voices in that room struck a powerful impression.
Years later, I wanted to set this song, Esta Montaña D'Enfrente, there, with that kind of reckless careening, that kind of fire. Is it traditional Ladino? Absolutely not. But, I hope, it makes this story resonant.
You be the judge. Here is the result:
Esta Montana D'Enfrente (The Mountain Ahead Burns).
I hope you'll enjoy.
— Guy
---
Don't miss the Guy Mendilow Ensemble when they perform at Charter Oak Cultural Center on November 16!
---