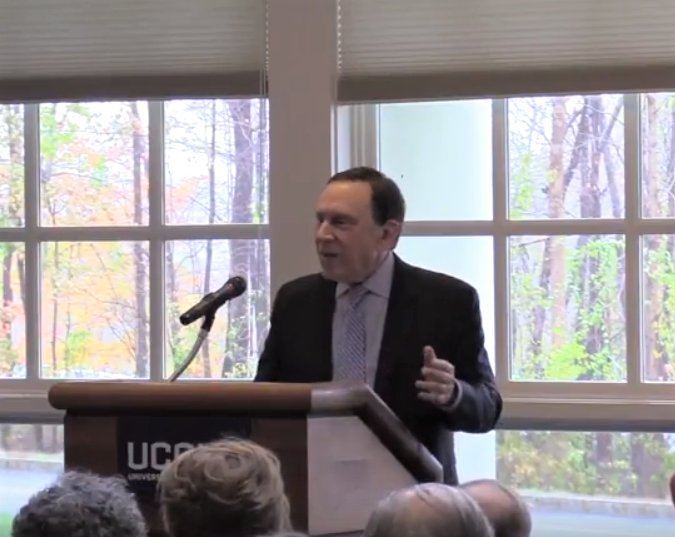 On October 29, 2017, Professor Arnold Dashefsky was honored for his distinguished career and  contributions to the University of Connecticut at a ceremony followed by a lecture given by renowned historian Dr. Jonathan Sarna. Speakers at the ceremony included Interim Provost Jeremy Teitelbaum, Interim Dean of the College of Liberal Arts and Sciences Davita Glasberg, and Interim Vice Provost of Interdisciplinary Initiatives and former Director of the Center for Judaic Studies Jeffrey Shoulson. 
Professor Dashefsky, founder of the Center for Judaic Studies and Contemporary Jewish Life, served as the inaugural holder of the Doris and Simon Konover Chair of Judaic Studies. As director of the Center, he helped to bring nearly two million dollars in endowments to UConn and a similar sum in external grants. Though retired in 2012, Dr. Dashefsky continues to teach his popular course on the Sociology of Anti-Semitism.
Following the ceremony honoring Professor Dashefsky, Dr. Jonathan Sarna presented a lecture on "The American Jewish Community in an Era of Change." Dr. Sarna is University Professor and the Joseph H. & Belle R. Braun Professor of American Jewish History and Chair of the Hornstein Jewish Professional Leadership Program at Brandeis University. 
Watch the full ceremony and lecture filmed by UCSPAN: 
---