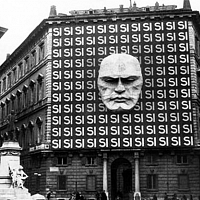 On Thursday, September 20, from 9:30-4:00 pm, the UConn American Studies program will host a one-day conference on "The Forms of Authoritarianism" with keynote speaker Ben Kiernan of Yale University. The conference will be held at UConn Hartford in the Hartford Club, 46 Prospect Street, Hartford.
This one-day conference brings together scholars and journalists at the University of Connecticut and across the region to discuss the various forms that authoritarianism is taking in the world today, from the Philippines to Turkey, to Argentina and Venezuela, to Europe and the United States. It also aims to place this authoritarianism in historical perspective, comparing it to the anti-democratic currents of yesterday, whether in fascist Europe or in the Cold War dictatorships of Latin America.
 
Panelists will address: What are the dynamics of authoritarianism in the site they study? What forms does its policies and political rhetoric take? What is the relationship between economic insecurity and anti-democratic currents? What politics and institutional structures of the old regime fuel the rise of authoritarianism? Is it genuinely populist, facilitated by elites, or both?
For details on panels and panelists, view the full program.
This program is made possible with generous support from the College of Liberal Arts and Sciences, the UConn Humanities Institute, the Asian and Asian American Studies Institute, the Center for Judaic Studies and Contemporary Jewish Life, the Department of English, the Human Rights Institute, and the University of Connecticut-Hartford.
---