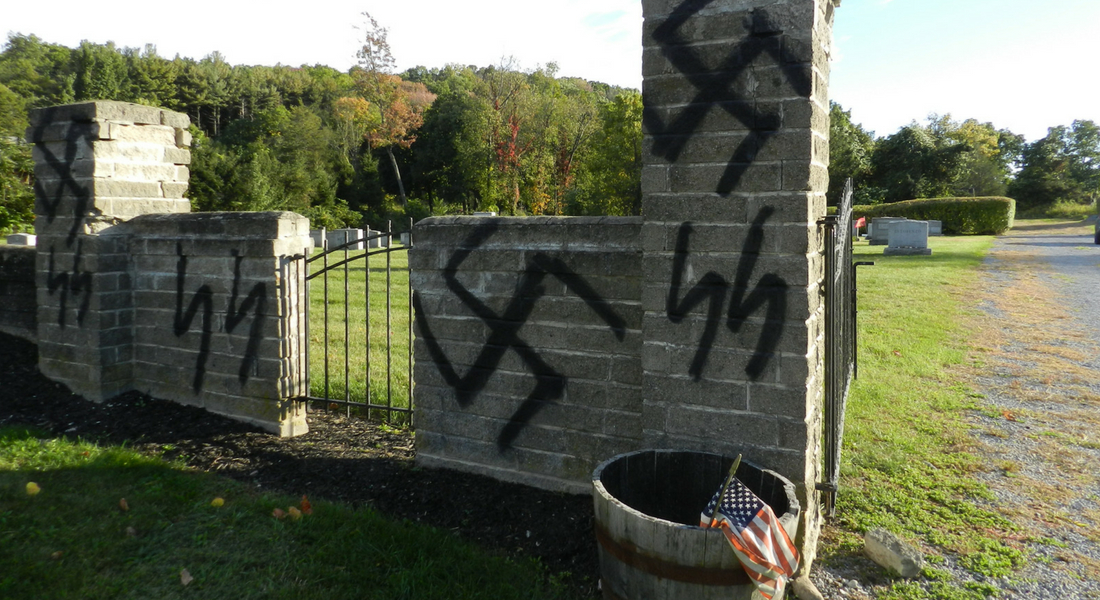 Please join us on Wednesday, November 7, when Dr. Tom W. Smith will present "Antisemitism in Contemporary America." The program will be held at 5:00 pm in the Konover Auditorium at the Dodd Research Center. A reception will follow. The evening is made possible by the Center for Judaic Studies Frances and Irving Seliger Memorial Endowment Fund and is co-sponsored by the American Studies Program, the Humanities Institute, the Department of Literatures, Cultures, and Languages, and the Thomas J. Dodd Research Center. 
This lecture is held in remembrance of Kristallnacht, the Night of Broken Glass, when the Nazis orchestrated a pogrom during which German Jews were humiliated, beaten, and murdered and Jewish homes, businesses, hospitals, synagogues, and schools were looted and destroyed.
If you require an accommodation to participate, please contact Pamela Weathers at pamela.weathers@uconn.edu or 860-486-2271.
Earlier in the day, at 11:45 (Oak Hall 236), Dr. Smith will present "Current Issues in the Conduct of Survey Research," co-sponsored by the Departments of Political Science and Sociology. Lunch will be provided. Seating is limited. Please RSVP to pamela.weathers@uconn.edu.
About the Presentation
Antisemitism is one of the oldest and most deeply rooted of all forms of inter-group hatred. Prejudice and bigotry against Jews have many aspects, combining religious intolerance, economic stereotypes, suspicions of disloyalty, and other factors. But while antisemitism is a persistent and enduring societal blight, it is not static and immutable. Antisemitic beliefs do change over time and the level and nature of prejudicial attitudes and anti-Jewish behaviors do wax and wane. As a complex and dynamic societal feature, the state of antisemitism needs to be closely examined and its contemporary manifestations carefully investigated and assessed.
About the Speaker
Senior Fellow Tom W. Smith directs NORC at the University of Chicago's Center for the Study of Politics and Society. Since 1980, he has served as Director of the General Social Survey (GSS), one of NORC's most visible projects and one of the nation's most heavily utilized datasets. He is also co-founder of the International Social Survey Program (ISSP), former Secretary General of the ISSP, and currently serving on the ISSP Standing and Methodology Committees.
He is frequently consulted and quoted by the news media on such diverse topics as American sexual behavior, intergroup relations, confidence in institutions, happiness, religion, guns, and voter behavior.
Smith is a prolific writer, analyzing and publishing the results of his studies in peer-reviewed journals and NORC-published reports aimed at students, scholars, and policy makers. He serves as a referee for several peer-reviewed journals, including American Journal of Sociology, Health Affairs, and Demography, and he is a member of the editorial board of the International Journal of Public Opinion Research. Smith was editor-in-chief of Public Opinion Quarterly from 2012 to 2016.
In addition to his extensive publication and public speaking record, Smith has been the recipient of the following awards: Worcester Prize, International Journal of Public Opinion Research, 1994; AAPOR Innovators Award, 2000 and 2003; AAPOR Award for Exceptionally Distinguished Achievement, 2002; Eastern Sociological Society Award for Distinguished Contributions to Sociology, 2003; Demographic Diamond Designate, American Demographics, 2003; American Sociological Association Travel Award for World Congress of Sociology, 2010; Best Publication by an International Scholar, American Sociological Association Section on Global and Transnational Sociology, 2010; the Warren E. Miller Award for Meritorious Service to the Social Sciences, ICPSR/The University of Michigan, 2011; and the AAPOR Book Award, 2013. 
Smith was appointed to serve on the Panel on the Review and Evaluation of the 2014 Survey of Income and Program Participation Content and Design of the National Academy of Sciences. In August 2014, Tom was elected to the Sociological Research Association (SRA), an honor society of leading sociological scholars.
Tom W. Smith is the first recipient of NORC at the University of Chicago's Norman Bradburn Career Achievement Award. The award was established to recognize individuals who, through the course of working for NORC, have made a significant contribution to the field of social science research or methodology. 
---