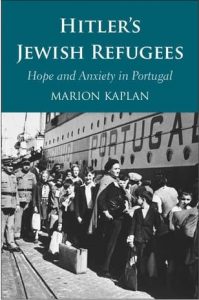 Please join us for a talk with NYU historian Dr. Marion Kaplan who will present the UConn Center for Judaic Studies Gene and Georgia Mittelman Lecture in Judaic Studies on Hitler's Jewish Refugees: Hope and Anxiety in Portugal. 
The event is free and open to the public. Attendance counts toward honors credit.
Date: Wednesday, January 29, 2020
Time: 1:45 pm

Place: Class of '47 Room, Babbidge Library, UConn Storrs
Exhibition opening "Beyond Duty" and reception will follow the lecture at 3:00 pm in the Thomas J. Dodd Research Center (across the courtyard from Class of 1947 Room, Babbidge Library).
The exhibition, curated by the Consulate General of Israel to New England and timed for the United Nations International Holocaust Remembrance Day on Jan. 27, is co-sponsored by UConn Global Affairs and the Thomas J. Dodd Research Center. It will run through March 1. Center Director Avinoam Patt will provide introductory remarks.
About the Talk: Hitler's Jewish Refugees: Hope and Anxiety in Portugal depicts the travails of refugees escaping Nazi Europe and awaiting their fate in Portugal. Drawing attention not only to the social and physical upheavals of refugee existence, it also highlights their feelings as they fled their homes and histories while begging strangers for kindness. Portugal's dictator, António de Oliveira Salazar, admitted tens of thousands of Jews fleeing westward but set his secret police on those who did not move on quickly. Yet Portugal's people left a lasting impression on refugees as caring and generous.
An emotional history of fleeing, the book probes how specific locations touched refugees' inner lives, including the borders they nervously crossed, the consulate lines they fretfully waited on, the smoky cafés they uneasily inhabited, or the overcrowded transatlantic ships that signaled their liberation. These sites induced feelings of frustration or relief – often both.
Life in limbo has at its core anxiety and fear, but also courage and resilience. Most refugees in Portugal showed strength and stamina as they faced unimagined challenges. For them, Lisbon emerged as a site of temporality and transition, a "no-man's-land" between a painful past and a hopeful future. Paying careful attention to the words of refugees in Portugal may help us to understand Jewish heartbreak and perseverance in the 1940s and also to listen compassionately to refugees' stories in our own times.
About the Speaker: Marion Kaplan is the Skirball Professor of Modern Jewish History at NYU. She is a three-time National Jewish Book Award winner for The Making of the Jewish Middle Class: Women, Family and Identity in Imperial Germany (1991), Between Dignity and Despair: Jewish Life in Nazi Germany (1998), and Gender and Jewish History (with Deborah Dash Moore, 2011) as well as a finalist for Dominican Haven: The Jewish Refugee Settlement in Sosua (2008). Her other publications include: The Jewish Feminist Movement in Germany, Jewish Daily Life in Germany, 1618-1945 (ed.), and Jüdische Welten: Juden in Deutschland vom 18. Jahrhundert bis in die Gegenwart (with Beate Meyer, 2005). She has edited several other books on German-Jewish and women's history and has taught courses on German-Jewish history, European women's history, German and European history, as well as European Jewish history, and Jewish women's history. Her newest book, Hitler's Jewish Refugees: Hope and Anxiety in Portugal, 1940-45 (Yale University Press) will be released in January, 2020. 
---