By Jillian Chambers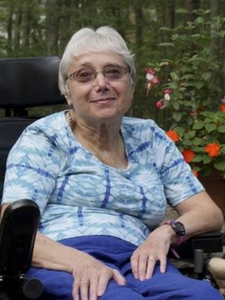 The Center for Judaic Studies Writer-in-Residence Joan Seliger Sidney was not always the prolific poet we know today. It was not until she audited a poetry class at the University of Connecticut that she began to write. As someone who lost so much through the Holocaust and has spent years living with multiple sclerosis, she brings a unique perspective to the printed page. The Hartford Courant's Connecticut Poet's Corner and The Whole Megillah recently highlighted Sidney and her work. 
The Connecticut Poet's Corner posted a series of Sidney's poems focusing on her family and their hometown of Zurawno, Poland. "Inheritance" describes her mother's memories of growing up in Zurawno so vividly that you feel at home in the one she depicts.
In "Pantoum for my Grandparents," there is a sense of helplessness as her grandparents say "Germans, so cultured, won't hurt us Old Jews" and refuse to flee, knowing the ultimate outcome of their choice. Despite never having the opportunity to meet them, poetry is a way for Sidney to connect to her maternal grandparents.
"On Approaching Seventy" is a piece that intertwines three generations of Sidney's family through the making of challah. As stated in The Whole Megillah, she is particularly proud of this poem.
It is no surprise then that when asked what inspires her poetry, Sidney says "for many years my mother's stories of growing up in Zurawno, then her three months of adventures escaping the Holocaust, became my serious topics: she really was my muse as well as helping me bear witness." Additionally, living with multiple sclerosis has been an important topic for her to write about, as well as her family.
You can read Joan's curated poems in the Hartford Courant here: http://www.courant.com/entertainment/arts-theater/hc-poet-joan-seliger-sidney-ct-poets-corner-20170923-story.html
Read her full interview with The Whole Megillah here: https://thewholemegillah.wordpress.com/2017/10/03/poets-notebook-joan-seliger-sidney/