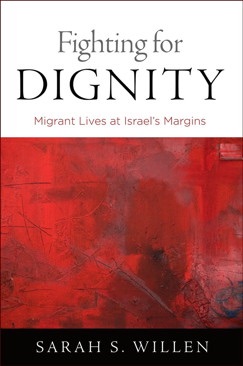 About the Book
In Fighting for Dignity: Migrant Lives at Israel's Margins (University of Pennsylvania Press, 2019), Sarah S. Willen, Associate Professor of Anthropology at UConn, examines the impact of a mass deportation campaign targeting migrant workers in Israel. Drawing on nearly two decades of ethnographic engagement with migrants and human rights activists in Tel Aviv, the book explores migrants' struggles to craft meaningful, flourishing lives despite the exclusions and vulnerabilities they endure. [Read more]
About the Panel
Join us for a panel discussion followed by a response from the author with migration studies scholars Tally Amir, PhD, LLB (Harvard University); Heide Castañeda, PhD, MPH (University of South Florida); and Jennifer S. Hirsch, PhD (Columbia University).
Light refreshments will be served.
The event is sponsored by the UConn Human Rights Institute, the Humanities Institute, the Center for Judaic Studies and Contemporary Jewish Life, and the Middle East Studies Program. If you require an accommodation, please contact Pamela Weathers at pamela.weathers@uconn.edu or 860-486-2271.
---