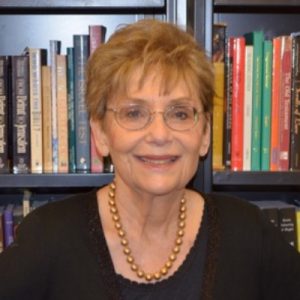 On Tuesday, November 12, UConn Professor Emerita Nehama Aschkenasy will give a talk on "National Identity and Private Histories: The Fiction and Lives of Aharon Appelfeld and Amos Oz." The talk will be held at the UConn Stamford campus in the Multi-Purpose Room (MPR) from 7:00-8:00 pm. Attendance qualifies for honors credit.

The talk is free and open to the public. If you require an accommodation, please contact Stamford Coordinator for Judaic Studies Professor Fred Roden at frederick.roden@uconn.edu or 203-251-8559.
About the Talk
This lecture is a tribute to the two giants of Israeli literature, Aharon Appelfeld (1923-2018) and Amos Oz (1939-2018), demonstrating how their lives and fictions were shaped by and intertwined with the two momentous events in recent Jewish history: the Holocaust (in the case of Appelfeld) and the birth of the State of Israel (for Oz). Their stories reveal the cultural and socio-psychological spirit of contemporary Israel as it wrestles with its national, ethnic, and moral identity.

About the Speaker
Dr. Nehama Aschkenasy is Professor Emerita of Comparative Literary and Cultural Studies at UConn, where she taught courses in literature and religion. She is Founding Director Emerita of the former Center for Judaic and Middle Eastern Studies at UConn Stamford. Aschkenasy published four books, among them the award-winning Eve's Journey, and has contributed numerous chapters to books and journals. Her essay on the Bible's role in modern Israeli culture, "Recreating the Canon," is included in the Posen Library (Yale University Press). She has served as Associative Editor of several scholarly journals in the US and the UK.

---