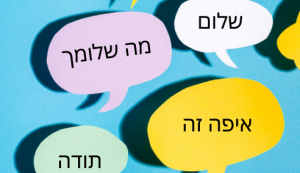 Do you want to speak with people in Hebrew? After this six-session crash course in Hebrew conversation, you'll be able to make small talk, ask directions, order things in a restaurant, go shopping, and even talk a little about current events—all in Hebrew.  The course focuses on functional spoken Hebrew you can use right away in daily interactions. There will be a few short easy readings, role play, listening practice, and in-class conversations. If you want to practice and learn some spoken Hebrew, join us on six Monday evenings this spring. Lehitraot—see you soon!!
This spring, at UConn Stamford, Dr.  Liora Brosh will teach a "crash course" in conversational Modern Hebrew.  Professor Brosh, a native speaker, holds undergraduate and graduate degrees from the Hebrew University, Israel.  
This free, non-credit course is open to all faculty, staff, students, and members of the external community.  Please share this information with anyone you think might wish to join us. There is no need to register in advance and no texts are required for purchase.  No prior knowledge of the language is expected.
Besides the inherent value of learning foreign languages in our global world, Modern Hebrew is of interest beyond Judaica.  It is relevant for those studying the Middle East as well as individuals working in business and STEM, given Israeli prominence in those fields.  
All sessions will be held in Room 313, the Center for Judaic Studies and Contemporary Jewish Life.  We will meet on Mondays from 6:30-8:00 p.m.: February 10, February 24, March 9, March 23, April 6, April 20. In the case of weather cancellations, we will reschedule any missed class(es).  
If you require an accommodation to participate, please contact Stamford Coordinator for Judaic Studies Prof. Fred Roden at frederick.roden@uconn.edu or 203-251-8559.
Join us!
---