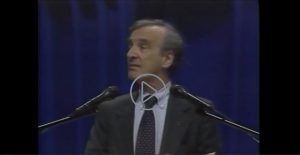 Fifty Years After Nuremberg: Nobel Laureate Address by Elie Wiesel (1995)
You will read, and you will remember, and in remembering you will realize that despair may be a question. It is never an answer.
25 years ago and 50 years after the Nuremberg Trials, 1995, the Center for Judaic Studies and Contemporary Jewish Life was honored to host Nobel Peace Prize winner, and survivor of Auschwitz and Buchenwald, Elie Wiesel, who came to speak at the UConn Harry A. Gampel Pavilion. He is introduced by then UConn President, Harry Hartley, and then US Ambassador of Urugay, Thomas J. Dodd. The event was part of UConn's Year of Introspection - 50 Years after Nuremberg - Human Rights and the Rule of Law. The video footage is 57 minutes long and can be watched here.
---