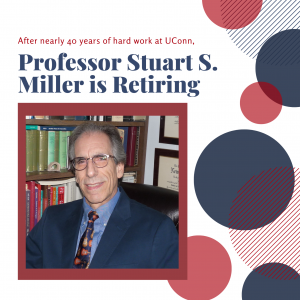 Dr. Stuart Miller, "the face of Hebrew and Judaic Studies at UConn," retires after 40 years
In his 40 years as professor of Hebrew, History and Judaic Studies at the University of Connecticut, Dr. Stuart Miller has shared his knowledge of rabbinic Judaism and Greco-Roman Palestine with thousands of students and mentored numerous graduate students. He served as academic director of the UConn Center for Judaic Studies and Contemporary Life, helping to build the program that exists today.
Read the Southern New England Jewish Ledger article about Professor Miller's retirement.
---