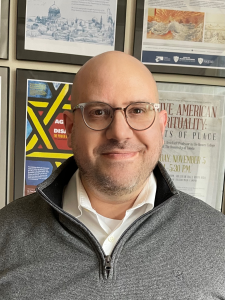 Yonatan "Yoni" Miller joins us from the University of Toledo in Northwest Ohio, where he was most recently the Philip Markowicz Endowed Assistant Professor of Judaism and Jewish Biblical Studies and the director of the Center for Religious Understanding.
Originally from Teaneck, New Jersey, Yoni earned his BA from Yeshiva University, summa cum laude, in Judaic Studies. He spent two years as a visiting graduate student at the Hebrew University in Jerusalem, and went on to complete both an MA and PhD in Ancient Judaism at Harvard University under the tutelage of Professor Shaye J.D. Cohen. After the completion of his PhD, he held a Harry Starr fellowship at Harvard's Center for Jewish Studies.
Yoni's research and teaching interests span from the Hebrew Bible through the Cairo Geniza. He is interested broadly in the first millennium of Jewish biblical interpretation, with specific interests in post-destruction literature on the Israelite priesthood as well as the history of the modern study of ancient Judaism.
Recently his translation of Mishnah Yoma was published in the Oxford Annotated Mishnah and he has an article forthcoming in the Harvard Theological Review. He is currently working on a monograph entitled Rewriting Priestly Authority in Late Antiquity. Along with Yale Divinity School's Jacqueline Vayntrub, he is also co-editing a book entitled The Motif in Biblical Literature: Contours, Critiques, and New Horizons, which will be published with T&T Clark (Bloomsbury).
Yoni is excited to return to his family roots in the Hartford area, the birthplace of his late grandmother Ruth, and the home of his great-great grandparents and great-grandparents in the late 19th and early 20th centuries.
Yoni is joined by his wife Rebecca Keys, their two children, Tair and Yadin, and their two pugs, Kishke and Farfel-Kugel.
Yoni Miller will be joining the Hebrew and Judaic Studies Faculty as Assistant Professor Hebrew and Judaic Studies beginning in Fall 2023.
---