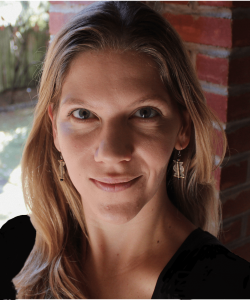 On Tuesday, November 12, anthropologist and Senior Researcher of the Dangerous Speech Project (DSP) Cathy Buerger will present "Fear and Loathing in our Discourse: Dangerous Speech, Division, and What to Do about It." The talk will be held at the UConn Stamford campus in the Multi-Purpose Room (MPR) from 12:30-2:00 pm.  
The talk is free and open to the public. It is sponsored by the UConn Center for Judaic Studies and Contemporary Jewish Life. If you require an accommodation, please contact Stamford Coordinator for Judaic Studies Professor Fred Roden at frederick.roden@uconn.edu or 203-251-8559. Attendance qualifies for honors credit.

About the Talk
No one is born hating or fearing other people. That has to be taught – and those harmful lessons seem to be similar, though they're given in highly disparate cultures, languages, and places. Leaders around the world use particular kinds of rhetoric to turn groups of people violently against one another. But this rhetoric is, of course, nothing new. The vocabulary varies, but the same themes recur: members of other groups are depicted as threats so serious that violence against them comes to seem acceptable or even necessary. In this talk, drawing from both historical and contemporary examples, Dr. Cathy Buerger will outline a framework for identifying dangerous speech – any form of expression that can increase the risk that its audience will condone or commit violence against members of another group. The lecture will conclude with a discussion of productive responses to dangerous and otherwise harmful speech.
About the Speaker
Cathy Buerger is a Senior Researcher at the Dangerous Speech Project (DSP), a Washington, DC-based NGO that studies the relationship between speech and violence. She holds a PhD in Anthropology from the University of Connecticut, where her research examined how civil society activists work together to support positive norms and to uphold human rights. Her current research at the DSP focuses on civil society responses to dangerous and hateful speech online. She is a Research Affiliate of UConn's Economic and Social Rights Research Group, Managing Editor of the Journal of Human Rights, and an Editor for the Teaching Human Rights Database.
---